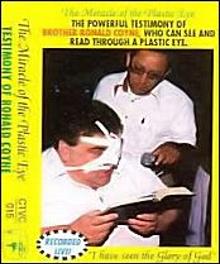 IT
Religious tent shows traveled the Midwest well into the 1960s, and perhaps they still do. One troupe rented a downtown movie house in Moline, Illinois for a week in 1965 or '66 and put on a show that included sermons, carnival tricks, and frequent passing of the collection basket among the mostly poor white audience. One of the performers was introduced as the man with a glass eye. I've forgotten whether it was the left or the right. He would appear to twist the orb from the socket, hold it aloft for the audience to see, then poke it back into his head. In a previous life he had probably been good at finding quarters behind boys' ears. His working eye would be covered, and he would use the glass eye to read not only scripture but anything offered by the audience.
In writing this, I found accounts on the Internet of a Rev. Roscoe Ronald Coyne (1943-1994), of Sapulpa, Oklahoma, who worked the glass eye miracle on stage and television. I don't know if he was with the crew that visited Moline. He would have been in his early twenties. According to one article, he claimed miraculous sight as early as age seven, and later joined the traveling church circuit along with faith healers and speakers in tongues.
By the time I heard about the show, the theater balcony was filled in the evenings with high school students and a cop to maintain order. The cop was indispensable. Not all of us had seen a miracle before.
I don't remember if the local newspaper tumbled to this. It would have been fun if a sympathetic reporter had come over and talked to the charlatans: who they were, how much of the year they spent traveling small cities fleecing hicks, whether it was a decent living, what they did the rest of the time. A couple of years later I went out on an assignment of this sort myself. Actually, I volunteered. The Mississippi Valley Fair had a strippers' tent that put on a mildly lewd show. I tried to find out the who's and what's of the business. All management would tell me was they picked up the performers in Chicago. They wouldn't let me talk to the girls.
I had seen other miracles a few years earlier. A friend's grandmother attended the Open Bible Church one town over. Virgil Bayme, who lived a few doors down from us and worked at a gas station, would get up during a service, dance a jig and speak in tongues. Brother Barrow, the pastor, would lay it on about sin and redemption. I heard later, from a friend who had visited an Open Bible church in Iowa, that when the preaching and praying got hot enough, parishioners would run outside to see if the roof was on fire. I didn't see that happen on the Illinois side of the river, where we were more sophisticated.
One week, a revival preacher came to Brother Barrow's church. This was odd because the church was a several-times-a-week revival show itself. But this circuit rider was there to cleanse the congregation of lingering devilry. He stood up front and as parishioners came up the aisle, one by one, he would spool up a fervent prayer for cleansing, then clasp his hand on a parishioner's forehead, at which point the person would collapse backward into the hands of waiting catchers, who lowered the stunned penitent to the floor.
The visiting preacher was laying them out right and left in the aisles. At some point Brother Barrow's wife—a spiritual lady, certainly—came forward, got zapped, and emerged from delirium on the floor just long enough to pull her hem below her knee before passing out again. I saw this from the safety of a back row. It never occurred to me to go outside and see if the roof was on fire. In off-hours, Brother Barrow sold shoes in downtown Moline. He was a pleasant man. Years earlier I believe he lived directly across the street from us.
There are still Open Bible Churches, headquartered in Des Moines, according to an Internet site. Membership totals about 150,000 spread among 330 congregations. In June, they plan to have a convention in Palm Springs.
I should leave this topic, but there is something about the Midwest that in a mild form produces prayer chains on the Internet and bids for supernatural guidance at chicken-salad lunches. It's comfortable with religious tents pitched at the edge of towns that seem to have too many miles between them, where afternoon clouds hold portents and there is a crazy kind of electricity in the air. Garrison Keillor made it sound amusing, but it isn't.
May 11 2017 [A few years after writing this note, I got a short story out of the memory, published in the March/April 2021
Hitchcock's
as "The Devil in Preemption" by Max Gersh.]