I'm a paragraph. Drag me to add paragraph to your block, write your own text and edit me.
(William Morrow, 1985)
"The best book ever written on insider trading." Norman Fosback,
Market Logic
Miscellaneous Articles
Barron's Financial Weekly
(1977-1983)
The Wall Street Journal
(1982-2009)
The New York Times
(1984-1988)
Also:
Financial World, Sylvia Porter's Personal Finance, Trillion, The Baltimore Sun, Warfield's, Baltimore Magazine, Fortune, The Boston Globe, The Washington Times, Reason, The American Spectator
Just for amusement sake, evidence that some people can't hold a job:
The New York Times
(copy boy 1966-67),
The Moline Dispatch
(reporter 1967-69),
The Newburyport News
(reporter 1969-71),
The Framingham News
(reporter 1971),
The Boston Globe
(part-time copy editor 1970-71),
The Binghamton Sun-Bulletin
(copy editor 1971-73),
The Annapolis Evening Capital
(copy editor 1973-75),
The Baltimore Sun
(copy editor 1975-78),
Barron's
(associate/senior editor 1978-83).
_______________________________
Thursday's edition of
The Sun
in Baltimore carried an obituary for Roscoe C. Born, who died at 95. I hadn't thought of him in years. In the late '70s and early '80s, when I worked at
Barron's
, Roscoe was a Washington writer the magazine had inherited when Dow Jones closed down the
National Journal
. It's hard to grasp that he was younger then than I am now, particularly as I viewed him as an aged gasbag trading on his better days. When his copy landed on my desk, he was a pain in the neck to edit; if he hadn't asked a question, he couldn't see why a copy editor should ask it. His Washington reporting was otherwise capable but could have appeared anywhere, lacking the liberal-market fervor that marked
Barron's
. He had, I think, little interest in markets of any sort.
In any case, Roscoe came to mind this morning as I've been trying to avoid work, and his name brought to mind those of other
Barron's
colleagues. Most of them are long gone. Jim Meagher, who had worked with Roscoe on the
National Journal
, died a few years ago in his eighties. We enjoyed talking because he had gotten his start at the
Rock Island Argus
, and we compared notes on whether that was a worse place to work than the neighboring
Moline Dispatch
.
The commodities writer, Dick Donnelly, keeled over one evening at home in his sixties. He'd had an ideal gig: four days a week of exchanging raunchy and memorably misogynistic jokes with commodity traders and one hurried afternoon pounding out his weekly column. Frank Campanella, who did the legwork on Alan Abelson's iconic column (and was in his own right a sensible investor), died a few years ago. After I left the magazine my wife and I had a cheerful dinner with Frank and his wife at a French place in the forties and then went up to the Plaza for strawberries and cream and violins. Bob Bleiberg, the splendid editor (and probably the last editorialist in America to defend aluminum house wiring), died in 1997. Abelson went a year or two ago. Michael Brody, who wrote good free-market editorials but considered himself a Maoist, left
Barron's
for
Fortune
, then left
Fortune
to grow grapes in California, and dropped like a shot bird one day when he was less than forty years old.
Googling around, I saw the glum news that the former foreign editor, Peter C. DuBois, died this March at age 80. Funny how things stick to you. Peter affected a slightly British manner, collected modern art, and called me "Bub." Sometimes I call my son "Bub." Peter Brimelow remains upright, author of books on stock market gurus and immigration. Jim Grant remains not only upright but six-five or thereabouts, thriving as editor of a Wall Street standby,
Grant's Interest Rate Observer
, and author of biographies of Bernard Baruch and John Adams, among other books. No point to this note except recollection.
October 10 2015
_______________________________
Last Look at Ayn Rand (and Others)
This is a shot I took of Ayn Rand at her last public appearance, in November 1981 at a conference of the National Committee for Monetary Reform in New Orleans. I don't recall what she had to say except she wasn't too keen on Reagan. Jim Sinclair rightly called the gold market over for the foreseeable future. My
Barron's
colleague Peter Dubois and his wife were in New Orleans on vacation, so we had dinner together, spent the evening berating the magazine's managing editor; figuring that the conversation made it a working dinner I put the bill on the expense account. Rand died the following March. The managing editor made a stab at outliving all of us.
June 6 2017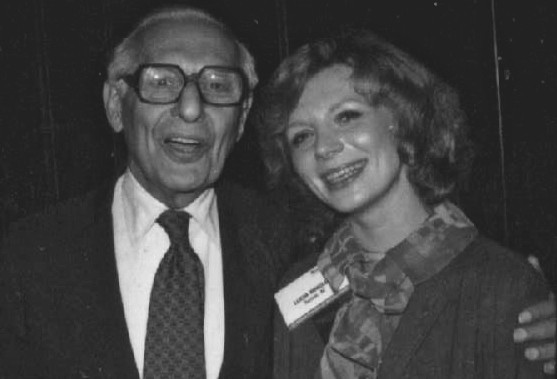 Nicolas Deak , in his late 70s, doing not so badly with a blonde at the NCMR. In the inflationary 1970s and early '80s, Deak's company Deak-Perera sold gold bullion at retail shops in several large cities. A native of Hungary, he carried a concentration camp tattoo on a forearm. About four years after I got this cheerful picture, a shopping-bag lady who claimed she owned half his company made it past security at his office on Lower Broadway and shot Deak dead at his desk. Commodity traders are as sentimental as anyone on Wall Street. Dick Donnelly, who covered commodities for
Barron's
, picked up word from his contacts that there was a "bearish indication" for metals, because Nick Deak had taken an unscheduled delivery of lead.
Harry Browne (far left) explains monetary corruption or somesuch to idlers at the New Orleans conference. Browne (1933-2006) was the first writer with a financial opinion who made me a buck. His book
How You Can Profit from the Coming Devaluation
in 1970 recommended outre strategies such as buying Swiss francs. I missed Devaluation No. 1. But gullible still, I shipped my couple thousand in savings to Swiss Volksbank, and the profit from the second devaluation paid for a few months in Morocco and Spain (at $5 a day, to be sure). Later Browne ran for President as a Libertarian. I didn't vote for him. Nelson Bunker Hunt (1926-2014) lectures on similar matters. A few years later he and a brother cornered the silver market for a while.
_______________________________
_______________________________